Regular-season NASCAR racing comes to a close this weekend at Daytona International Speedway for the Coke Zero Sugar 400.
Among the top storylines heading into tomorrow's race is Denny Hamlin as the odds-on favorite and one postseason spot up for grabs in what may be the most exciting aspect of the race.
Hamlin, Harvick top favorites to win
Sports betting is not yet legal in Florida. However, legal sportsbook apps across the country have put up lines for tomorrow's showdown.
As of Friday, FanDuel Sportsbook featured the following odds for the race:
Denny Hamlin (+650)
Kevin Harvick (+1,000)
Brad Keselowski (+1,300)
Ryan Blaney (+1,400)
Joey Logano (+13,00)
Will Hamlin get his first Coke Zero Sugar 400 victory?
Hamlin will start from the 10th spot tomorrow. Although he has yet to take home the crown at the Coke Zero Sugar 400, Hamlin has won the Daytona 500 three times, including this past February in one of the more memorable finishes in recent history.
Hamlin was in third coming out of the final turn on the last lap, trailing Blaney and Ryan Newman. Newman lost control and spun out, and Hamlin slid past Blaney in a photo finish.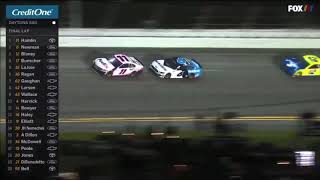 Harvick looks to punctuate fantastic season
Heading into the final race of the season, Harvick sits on top of the NASCAR Cup Series leaderboard thanks to seven wins and 17 top-five finishes. His seven wins are the second-most of his career in a season, and his average finish of 6.08 this season is the best of his career.
While this season has been good to Harvick, the Coke Zero race hasn't been as kind.
His first and only win there came in 2010, when he beat out Kasey Kahne and Jeff Gordon for his second win of that season. Three months earlier, Harvick won the Daytona 500.
That Harvick is the favorite behind Hamlin to win this weekend's race isn't a surprise because of his incredibly productive 2020 season. However, Harvick's lack of success at the Daytona oval tempers expectations, and may be why Daytona-slayer Hamlin is the Vegas darling this weekend.
Johnson scrapping for final playoff spot
The top 16 regular-season finishers will head into a four-race playoff to determine the Cup winner.
Entering Saturday's race, legend Jimmie Johnson is out of the playoff, trailing Matt DiBenedetto by nine points. If neither driver wins the race, then Johnson needs to finish within 10 spots of DiBenedetto to win a playoff spot outright.
The two drivers couldn't be more different at this stage in their careers. Johnson is one of the best NASCAR drivers in history. His accolades include:
Meanwhile, DiBenedetto has yet to capture a NASCAR victory. However, his average finishes have improved every season:
2015: 31.97
2016: 30.00
2017: 27.06
2018: 26.97
2019: 18.31
2020: 15.16
Also of consequence is that Johnson is at the zenith of his career. He hasn't had a win since the 2017 season and his average finish this year (15.29) is worse than DiBenedetto's.
If Johnson doesn't earn enough points to surge past DiBenedetto, he will miss the postseason for only the second time in his career when he's raced a full season.