Hard Rock International knows how to party.
To celebrate its 50th anniversary, the iconic global brand announced this week it signed a five-year partnership with another global icon: Lionel Messi.
"Over the past five decades, the Hard Rock brand has grown to become one of the world's most recognizable and beloved brands," Hard Rock International Chairman Jim Allen said in a press release. "As we reached our 50th-anniversary milestone, we knew that we needed to partner with an icon to help us celebrate in a new and unexpected way, and there was no better choice than the legendary Lionel Messi."
Messi will assume the role of Hard Rock brand ambassador. He is the first athlete to serve as a brand ambassador.
Signing a soccer god goes back to Hard Rock's roots
Messi's name is a household in every corner of the globe. However, the Hard Rock's soccer-laden roots are virtually unknown.
The iconic Hard Rock logo dates all the way back to the early '70s. The original London Hard Rock Cafe sponsored a local soccer team whose uniforms featured the Hard Rock logo.
The uniforms became so popular, Hard Rock's press release noted, that the team had to set up a separate concession stand to handle merch sales.
Hard Rock stores to feature Messi-branded merchandise
Part of the new partnership with Barcelona's revered striker includes the debut of the Messi Collection themed, "Live Greatness."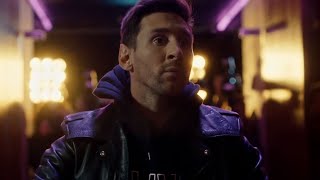 The Messi collection includes a pair of T-shirts bearing an image of a lion and the phrase "Live Greatness." Other items include a trio of hoodies and a Messi-themed Hard Rock guitar pin.
The back of all shirts and hoodies has a silhouette of Messi, his name and his famous number, 10.
Messi said in the press release that he is "honored" to partner with Hard Rock.
"Sports and music are an integral part of my life, a perfect combination between my profession and my leisure time," he said. "It is an honor to be the first athlete to partner with a brand who has a history of teaming with music legends."
Gift exchange, upcoming celebration planned for 50th festivities
To commemorate the Messi partnership, Allen gave the soccer star a custom-designed electric guitar. Messi gave Allen a signed replica of the multiple Balon d'Or awards he won as the world's top footballer.
The guitar will be on display at a Cafe location to be named later.
The brand's official anniversary date is June 14. On that day, participating Hard Rock Cafes will offer Country Burgers for 71 cents.
Since its inception in 1971, the Hard Rock brand has grown to 239 locations in 68 countries.